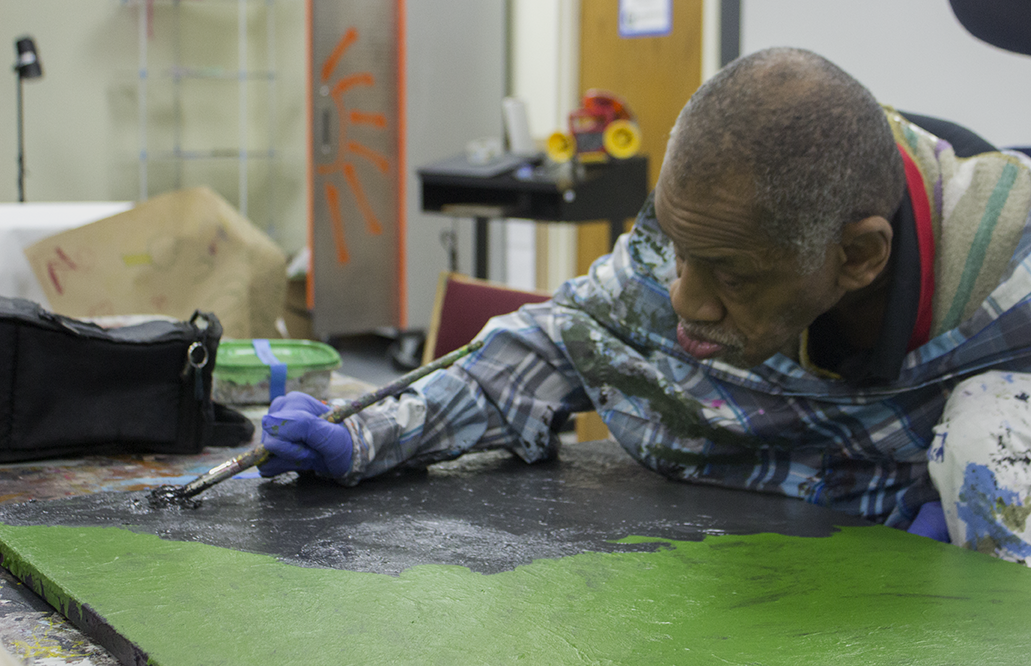 Artist Bio and Statement
I was born in 1947, and I grew up in St. Louis, Missouri. I deeply love spending time with my family whenever I can, especially to celebrate holidays. I have a twin sister, who lives in another state, and I enjoy writing letters to her. I am a huge fan of old school R&B music, and I consider myself the number one die-hard fan of "Majic 103.7 – Today's R&B and Throwbacks for St. Louis" radio station. With money from selling my artwork I have bought myself a personal radio so I can listen to music whenever I want to at home. Listening to old school music keeps me happy and positive!
My work features wonderlands of bright colors and contrasting designs, and I am able to create my artwork despite my physical limitations and communicative barriers. I overcome these obstacles by directing my staff with ways to assist me. I use an electronic communication device to tell my staff what mediums and materials I want to use, my color choices, what shapes and patterns I want to create, or the emotions I want to evoke or express within a particular piece. My staff assists me by taping off sections of my canvas so I can create layers and patterns of different colors, then together we remove the tape after layers of paint are dry. My staff must place the brush or paint marker in my hand in a specific way so I am able to independently move it across my piece. After focusing on creating a piece for several days or weeks, I am ecstatic to see the final result once the tape is removed. Then I decide which direction to hang or display the piece, and brainstorm titles with the help of my peers and staff. Through the process of making artwork, I feel in control and able to make choices and I have learned that I am capable of creating something beautiful, despite my limitations. The end result of my work sometimes looks chaotic, exhausting, or uncomfortable, but I feel happy when I make art and I want the viewer to feel happy too when they see my work.
Group Exhibitions

2019 Dia de Los Muertos, Missouri History Museum, St. Louis MO
Renewal, Framations Art Gallery, St. Charles MO
Beauty in Diversity: The Human Experience Through Their Eyes, Good Shepherd Art Center, Ferguson MO
Recent Works by the Artists at Fine Line Studios, St. Louis Artists' Guild, St. Louis MO
2018 Everything Blue II, Soulard Art Gallery, St. Louis MO
Ceramics Exhibit, Lewis and Clark Branch Library, St. Louis MO
Director's Creativity Showcase, Missouri Mental Health Foundation, Jefferson City MO
2017 Reclaim, St. Louis Artists' Guild, St. Louis MO
Inside Insight, Good Shepherd Gallery, Ferguson MO
2016 Into the Wild, Soulard Art Gallery, St. Louis MO
Living Color, Soulard Art Gallery, St. Louis MO
2015 BoozeArt, Koken Art Factory, St. Louis MO
Gerald's Selected Portfolio